This summer, one of my friends gave me the title of "App Queen," after I continually suggested apps during our conversations. I realized my suggestion didn't come out of some strange love for apps (in fact I don't have that many), but more of the fact that I'm a money-conscious 20-something fresh out of college with low funds.
I figured I would share some of the apps and services that help me save and earn money. Use the links below for extra discounts.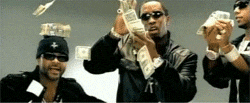 Honey
Honey is a browser extension that aggregates discount codes and applies them to your online shopping. I use this for all of my online shopping, it even works with Amazon. This is a must have.
ClassPass
ClassPass is partners with a ton of different fitness studios ranging from pilates and yoga to CrossFit and boxing. The app gives customers a credit amount to pick and choose classes to go to. There is a free trial for new users, and you can decide to purchase the free version afterward which offers even more amenities like spas and cryotherapy.
Ibotta
Ibotta gives you cash back at a variety of stores. All you have to do is take a picture of your receipt, or order online through their links, and they'll credit you money. I generally just use it for groceries at shops like Trader Joe's, Whole Foods, and VONS.
Drop
Drop is similar to Ibotta, that it gives you cashback, but instead of going straight to your bank account, it comes in the form of gift cards. Some of the gift cards include Starbucks, Amazon, Netflix, and even American Airlines.
Acorns
Acorns is an investment app that is great for beginners like myself. It automatically invests spare change from your purchases. It just rounds up the money used by your linked credit or debit card.
https://acorns.com/invite/9WBEJT
Poshmark
Poshmark is similar to eBay, where you can buy and sell clothing, shoes, accessories, makeup, etc. I earn extra cash by selling my old items. My favorite thing is the easy shipping, that they account for on the seller's side automatically. 
Please reload