This  superhero family shatters more than just glass buildings, they shatter glass ceilings.
While action-packed fight scenes and dramatic love scenes fulfilled parts of the superhero narrative, Disney Pixar's 14-year sequel to its original 'Incredibles' movie alluded to several social and political problems pertinent to today's world. From money and sex, to politics and power, this PG-rated film covers it all.
Big business' political influence
The film's storyline quickly becomes political when Winston Deavor, head of a telecommunications company, approaches Mr. and Mrs. Incredible with the intent to use their status as crime-fighting superheroes to influence the government's decision to make supers legal again. With a recent government shutdown of programs which help supers (similar to SNAP, SSI, or Medicaid),Winston wants to persuade the government to make supers legal again. He does so by using his father's company (who passed away but befriended many supers when he was alive) to brand them and position them into situations  to fight crime. With his sister's creation of body-cameras (similarly used to police cameras) the world sees the good supers do. He throws parties where politicians and supers intermingle, and even puts Elastigirl in a scenario to save the prime minister. There is no doubt the writers of the film are poking at the intermingling between money and politics.
Women's lack of representation in the tech field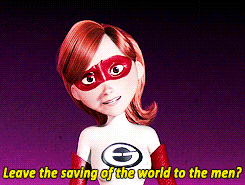 According to a study in catalyst.org, women represent less than ⅓ of  science, technology, engineering, and math (STEM) fields. However, bad girl Evelyn Deavor crushes that statistic with her impeccable technological skills. While her brother Winston schmoozes with politicians and serves as the face of their parents' company, Evelyn sits quietly in the background creating all the technology that the company profits from. But that is the problem! All of the men around her take all the credit and status, while she does all of the work. Even her bad alter-ego, Screenslaver, is expected to be a man due to his violent, manipulative nature. Evelyn's character is actually Pixar's first female antagonist ever. Even a computer animated woman didn't get her justice until now.
Using money to get away with anything
Violet, the tween daughter of Mr. and Mrs. Incredible, makes a snide comment at the end of the film about Evelyn Devor after Evelyn gets arrested. She tells her family something along the lines of "She won't be in there for long, she's rich." The fact of the matter is Violet is probably right. People get acquitted from murder, rape, theft, etc. based off of power and money all the time. If the world the film is set in continues to parallel the routes of monetary and political poison as described before, it is almost certain that similar occurrences such as President Donald Trump attempting to pay adult film star Stormy Daniels to stay quiet after the two had an affair, singer R. Kelly being found not guilty despite sexual acts with a 14-year old girl, or Britney Spears who drove around in the driver's seat with her baby on her lap without a seatbelt. Perhaps Evelyn's fate will play out if an 'Incredibles 3' ever comes out.
Accepting 'others' into society
The entire film encompasses ties to today's political stance on immigrants in the United States.
An overall push towards accepting 'others' radiates throughout this film's narrative. Although many can argue against cases of 'bad,' more people can often argue for cases of 'good.' If cartoon villains can accept superheroes, maybe the U.S. can accept immigrants.   
Please reload